What is included in the rate for a short term property rental?
Rates are fully inclusive of all utilities, broadband internet and TV (satellite where stated). All property rentals that we work with are fully furnished and equipped with cooking utensils and crockery.
How much do booking platforms such as Airbnb, Booking.com and VRBO charge a host? 
A majority of major booking platforms such as Airbnb, Booking.com and VRBO require a small commission rate on guest bookings.
Airbnb's cost breakdowns are slightly different to other platforms. There are two different options you can choose from as a host.
The traditional route (split-fee pricing) is where hosts are charged 3% of the booking, while guests pay a service fee between 13% and 20%.
The new alternative is a simplified pricing structure, where hosts are charged 15% of the booking. By paying 15% of the booking total, this means there will be no visible service fee to prospective guests, which creates a more simplified and appealing pricing structure for the guest.
On the other hand, Booking.com charges a fixed host fee of 15% on completed bookings. If a guest cancels, no fee is charged.
VRBO only charges 5% of a booking, but an additional 3% credit card processing fee.
At Huluki Sussex Stays, we use the globally renowned booking software – HostAway, to manage guest bookings. Using HostAway ensures no duplicate bookings across the different listing platforms and allows us to present the simplified Airbnb pricing structure to guests.
Is there anything that's NOT included in your full-service holiday home management?
Cleaning of properties is not included in our holiday let management fees. Apart from the initial clean (if you require it) guests will pay for this service and be
separately charged for this when booking your holiday rental.
How does HULUKI know what to charge for my property?
We have extensive knowledge in all the areas of Sussex we service. We also do extensive research into comparable properties in your specific village, town or city within Sussex, so that we are competitively priced. We use highly sophisticated software that helps us offer the ideal price in any situation. It takes into account supply and demand data, seasonal trends, data-driven special events and the number of days that are left to book.
I want to use my holiday let property myself – how do I temporarily block bookings?
Our dashboard allows you to block and unblock dates as you please! Alternatively, you can get in touch with our management services team to inform us about the dates that you want to block out in your property calendar. We will make sure that your property is clean and ready for you when you arrive. Please note that when you check out, there is a mandatory cleaning fee added to your account so that we can prepare for your next holiday guests.
Can my guests contact HULUKI if they have any questions?
Yes, then can. Our expert and knowledgeable team are on hand during the UK hours of 9am to 10pm, 7 days a week.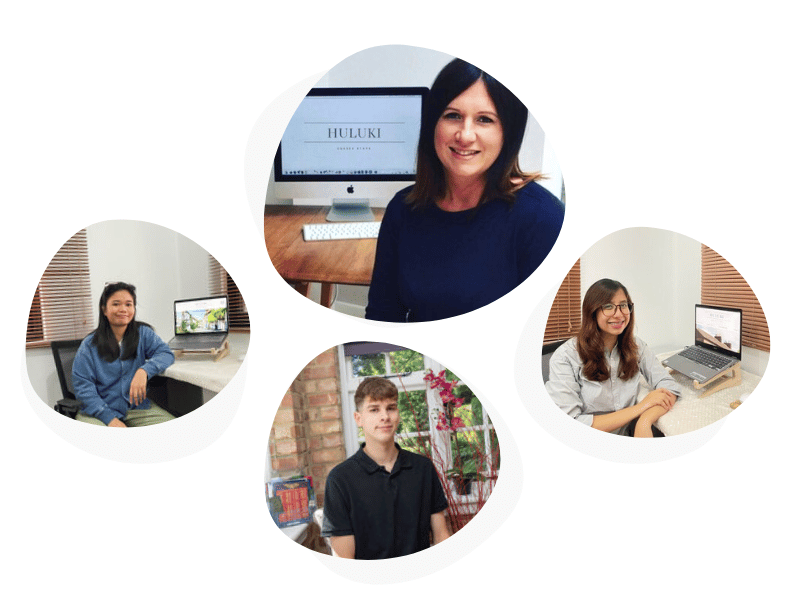 Do you cover the whole of Sussex?
Yes, we do. Our current properties are located throughout East and West Sussex. We currently have properties in Hurstpierpoint, Poynings, Brighton & Hove, Petworth, and Shoreham-By-Sea. We have a regular stream of guests who use us, looking for properties in and around Chichester, Midhurst, Goodwood, Arundel, Storrington, Steyning, Worthing, Horsham, Lewes, Cuckfield, Rye, Eastbourne and Ditchling.
What happens if a guest steals or breaks something during their stay?
When a guest leaves, we do a thorough walkthrough of your property and look for any damage. If we find any, we raise the issue with the guests for you and deduct the costs from their damage deposit. We do advise that you take out separate insurance to cover for damage that cannot be recuperated from the guests.

If the booking was made through Airbnb, you are eligible for $1,000,000 Host Guarantee coverage at no additional cost.
Do I have to pay a set-up or onboarding fee to get started with HULUKI Property Management?
We charge a one-time onboarding fee (dependent on property size, location and availability) which covers the cost of a photoshoot (if needed), setting up the online listing's on the different holiday letting platforms (Airbnb, Booking.com, VRBO, Expedia etc) and a visit from a member of staff who will visit your property to ensure your rental property has everything required in order to receive guests.
Which certificates do I need to start hosting my property with HULUKI?
Depending on the market, we may require specific documents in order to list your home with us. However, we do expect your property to be fully compliant with all local health and safety regulations, as well as any rules and regulations from the UK government. Prior to hosting, we recommend contacting your gas and electricity suppliers for an up-to-date safety inspection and to make sure that all fire and carbon monoxide alarms are functional.
How do I keep track of my earnings?
Your bookings, calendar and revenue can be found in your personal Owners Portal, which you can access via a dedicated website. This dashboard is updated in real-time and gives you an insightful overview of your property and its yields.
When do I get paid?
Owner payments are processed by the 9th of each calendar month for bookings that check out within the previous month.
Don't see your question listed here?
Feel free to enquire with us for a no-obligation chat about your property and the holiday let management services we can provide.